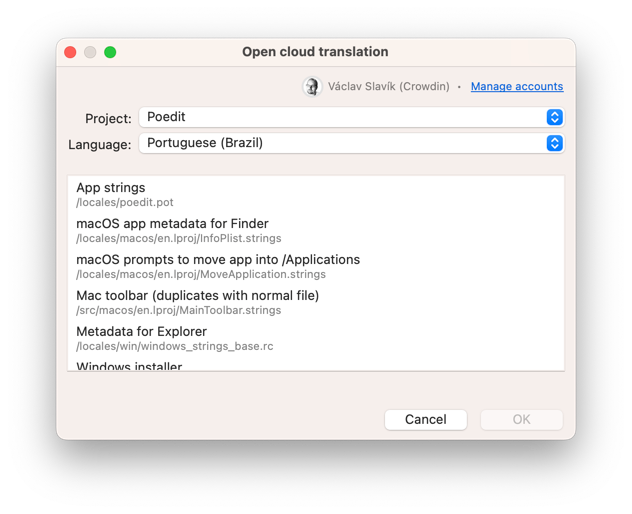 Cloud Sync
Poedit enables you to collaborate on translations with a team, without having to learn new tools. It can open cloud-hosted translation projects from supported services directly in the app.
Offline translation is fully supported — you don't need to be online to work. Syncing is as simple as saving the file. All Poedit functions are at your disposal as-is.
Supported Services

Crowdin software is a localization management solution for agile teams. Its many features empower companies of any shape and size to grow by reaching people who speak different languages. More than a million users from all over the world registered to deliver their websites, mobile apps, games, docs, and other content in the language of their customers.
Crowdin aims to provide the latest technology solutions that make translation and localization as easy as possible. There's over 150K localization projects on the platform and it hosts projects with over 35,000 contributors.
Crowdin is free for open source non-profit projects.

Localazy is a highly automated translation management platform that strives to make the localization process efficient and enjoyable. You can simply upload your files, use Localazy plugins for third-party services, or integrate Localazy with various frameworks and file formats through its command line interface (CLI) and API.
Localazy is also very developer-friendly and has various features to help you manage your translations effortlessly. Set up automated workflows, link duplicate strings, and build a rich context bank with Screenshots and Glossary to ensure your contributors have all they need for precise translation. Sign up for free with unlimited languages and explore the advanced features as your project grows. Learn more on localazy.com